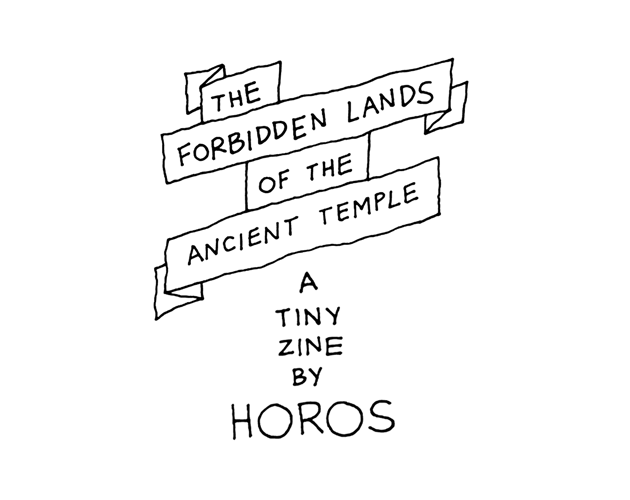 Ancient Temple
Dare to enter the Ancient Temple and visit the Chamber of the Clairvoyant. Go down the stairs to the Dungeon and explore its Black Vaults.
Many thieves and tomb raiders wonder what treasures can be found in this sinister place. But only a few have survived to get back to the citadel and tell their misfortune.
You can use this A4 Print & Play fanzine with MSX™, Age of Gods, or any other RPG of your choice.
===
MSX™ — https://horoscopezine.itch.io/msx-english
Age of Gods — https://horoscopezine.itch.io/age-of-gods
Age of Gods (Print) — https://www.rookspress.com/products/age-of-gods
===
Into the Last City
Roll 1d6 to know what you hear in the labyrinthic streets of the Last City:
1-2 — A poor stinky bandit named Husa prays every day to her many-eyed god in a small shrine located at the city's bazaar. She lost her eyes while trying to cross a dark straight tunnel under the Ancient Temple. She can describe how she got there but won't accompany anyone — not for a small sum of silver.
3-4 — A rich cunning thief called Nored is being seen accompanied by some local clergy. Many say he's planning a journey to delve into the depts of the Ancient Temple and retrieve an important relic to the local High Priest. He's willing to pay up to 300 silver pieces to each mercenary brave enough to follow him.
5-6 — A small party of faithful devotees is preparing a pilgrimage to the Ancient Temple. Among the group are three young thieves, an ambitious merchant, a well-known warrior, an old sage, and six priestesses who follow their seer. They all travel carrying small clay idols depicting winged lizards.
Rumors (1d6)
1-2 — Some people believe the Ancient Temple is the spiritual lair of a dead serpentine god who used to protect these lands. Bringing the serpent a modest clay idol once in a while keeps its ages-old vengeful anger at bay.
3-4 — Since the Final War that ravaged these lands, the way to the Temple was forgotten and forbidden by the citadel's Overlord. There are soldiers watching the trail that leads to the sacred place. These dangerous men are brutal and merciless.
5-6 — Some say the ruler of the city is a warrior priest who survived the Final War and now tries to hide his infamous past. According to older people, this man shamefully allowed the survivors to be enslaved and taken to enemy lands.
Purchase
In order to download this game you must purchase it at or above the minimum price of $5 USD. You will get access to the following files:
Shadowlords™ — Forbidden Lands
1 MB